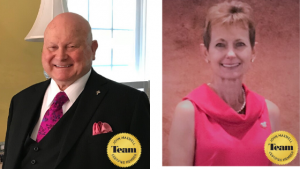 History of Academics Plus®, Inc.
In 1989, Dr. Kenneth E. Benton founded Academics Plus Learning Center in Dunn, NC. Academics Plus Learning Center was established to supplement educational activities of public schools and private enterprises. In 1990, Academics Plus®, Inc. was incorporated and moved to Goldsboro, NC. Dr. Kenneth E. Benton is President of Academics Plus®, Inc. and his wife, Dr. Marilyn C. Benton, is the Director of Operations. Academics Plus®, Inc. has provided educational services in North Carolina, South Carolina, Florida, and Virginia to over 4,000 students. In 2010 Academics Plus®, Inc. expanded services to include online instruction.
Today, Academics Plus, Inc. partners with individuals, schools, businesses and organizations to provide leadership development training and consulting along with coaching for personal growth.  As John Maxwell certified coaches, trainers, and speakers, we can offer you workshops, trainings, and coaching that will meet all of your professional and personal growth needs. Using John Maxwell's proven leadership methods we can help you and your organization move towards achieving your goals.
Contact us and let us help you determine the services which can best meet your professional and personal needs.