Now Offering Online Tutoring for Students of All Ages
Are you ready to get the 2020-2021 academic year off to a great start? Whether your child is headed back to the classroom, preparing to learn via a remote classroom online, or managing a hybrid approach, you can go back to school with confidence with the help of our qualified tutors.
At Academics Plus, Inc., we know what to look for when it comes to hiring tutors because we have been in education our whole lives. This means we are able to quickly discern whether a potential tutor has the skills and know-how your child needs to make real progress in their work. You won't have to worry about seeing mediocre results.
Our Services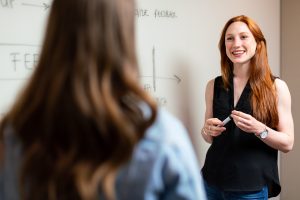 We offer a variety of tutoring services online for your convenience. Our tutors will work with each individual student on the subject area requested to ensure a seamless transition back into learning after the summer break and unprecedented shutdown of schools this spring due to coronavirus.
We also provide test prep services for the Praxis exam as well as State exams. Additionally, we offer Staff Development for Homeschool Parents.
Additionally, we can administer Accu tests and achievement tests.
Pricing
$45.00/hour for one 1-hour session
$40.00/hour for three 1-hour sessions
$35.00/hour for ten 1-hour sessions
Hours must be used in the following schedule: one session within the first week of signing up, three sessions within three weeks of signing up, and ten sessions within the first month of signing up.

Tutor With Us
We are always looking to expand our team of talented tutors. If you are a licensed teacher, a teacher in training, or exceptionally gifted at teaching in your trained field, click the button below to access our application form.

Request More Information